35 Solo Traveling Quotes That Will Inspire
You to Travel Alone
35 Solo Traveling
Quotes That Will Inspire You to Travel Alone
35 Solo Traveling Quotes That Will Inspire
You to Travel Alone
Traveling alone is an empowering and life-changing experience! Solo travel teaches you to enjoy your own company, venture outside of your comfort zone, and be self-sufficient as you grab life by the reins and tackle your travel bucket list. I wholeheartedly believe everyone should travel solo at least once in their life. With that goal in mind, I've curated this list of 35 amazing solo traveling quotes to inspire you to travel solo!
Whether you're a first-time or long-time solo traveler, these 35 solo traveling quotes are guaranteed to motivate and encourage you on your solo journeys.
These solo traveling quotes also make great solo travel Instagram captions. So feel free to copy and paste them into your Instagram posts as you document and share your solo adventures!
You can also pin the quotes to your Pinterest so you'll have them at your fingertips anytime you want a little solo traveling inspiration!
Now, without further ado, let's get to the quotes!
Solo Traveling Quotes to Inspire You to Embark on a Solo Adventure
If you've never traveled solo—or if you haven't traveled solo in a while—you may need a little encouragement to take the plunge!
The quotes in this section will motivate you to say "Yes!" to solo travel and the world of opportunities that await you!
1)   "You are the one that possesses the keys to your being. You carry the passport to your own happiness."   –Diane Von Furstenberg
2)   "I see my path, but I don't know where it leads. Not knowing where I'm going is what inspires me to travel it."   –Rosalia de Castro
3)   "Loving life is easy when you are abroad. Where no one knows you and you hold your life in your hands all alone, you are more master of yourself than at any other time."   –Hannah Arendt
4)   "Do you really want to look back on your life and see how wonderful it could have been had you not been afraid to live it?"   –Caroline Myss
5)   "I am never happier than when I am alone in a foreign city; it is as if I had become invisible."   –Storm Jameson
6)   "Don't be scared to walk alone. Don't be scared to like it."   –John Mayer
7)   "Twenty years from now you will be more disappointed by the things that you didn't do than by the ones you did do. So throw off the bowlines. Sail away from the safe harbor. Catch the trade winds in your sails. Explore. Dream. Discover."   –H. Jackson Brown, Jr. (P.S. I Love You)
8)   "As you travel solo, being totally responsible for yourself, it's inevitable that you will discover just how capable you are!"   –Unknown
Solo Traveling Quotes on Not Waiting for a Travel Buddy
Life is short, and there are too many incredible destinations to visit to delay traveling until you have a travel buddy.
The quotes in this section will inspire you to chart your own path and start making your travel dreams a reality today.
9)   "Never wait for someone to travel with. Book the ticket, take the flight, and go alone."   –Unknown
10)   "The man who goes alone can start today; but he who travels with another must wait until that other is ready, and it may be a long time before they get off."   –Henry David Thoreau
11)   "If companionship is a mandate for all of our experiences, then we will miss out on many of life's blessings."   –Gina Greenlee
12)   "Begin doing what you want to do now. We are not living in eternity. We have only this moment, sparkling like a star in our hand and melting like a snowflake."   –Sir Francis Bacon
13)   "If you have to wait for someone to travel with you, you may end up waiting a lifetime!"   –Unknown
14)   "Travel only with thy equals or thy betters; if there are none, travel alone."   –Buddha
Quotes About the Transformative Power of Solo Travel
Solo travel has an incredible power to heal your emotional wounds and transform you into a healthier, more confident, and stronger person.
Whether you're getting over a breakup, grieving the loss of a loved one, trying to heal old wounds, or just want to become a better, bolder version of yourself.…..you need to try solo travel.
The quotes in this section speak to the transformative, restorative power of solo travel.
15)   "Solo travel not only pushes you out of your comfort zone, it also pushes you out of the zone of others' expectations. You'll discover just how strong you are…."   –Suzy Strutner
16)   "Traveling alone will be the scariest, most liberating, life-changing experience of your life. Try it at least once!"   –Heather Hakes
17)   "Travel brings power and love back into your life."   –Rumi
18)   "Travel isn't always pretty. It isn't always comfortable. Sometimes it hurts, it even breaks your heart. But that's okay. The journey changes you; it should change you. It leaves marks on your memory, on your consciousness, on your heart, and on your body. You take something with you. Hopefully, you leave something good behind."   –Anthony Bourdain
19)   "There is a kind of magic about going far away and then coming back all changed."   –Kate Douglas Wiggin
20)   "Travel can be an important return to something you've loved before—a way to reclaim a piece of who you are."   –Megan Spurrell
21)   "A mind that is stretched by new experience can never go back to its old dimensions."   –Oliver Wendell Holmes, Jr. 
22)   "Travel far enough, you meet yourself."   –David Mitchell
Quotes About the Benefits of Traveling Solo
As wonderful as traveling with friends, family, and significant others can be, traveling alone definitely has perks and practical benefits.
For example, when you travel solo, you have 100% control over your itinerary, and you're also able to reflect on your experiences without being distracted by travel companions. On top of that, it's much easier to snag a seat at a busy restaurant or popular event when you're traveling solo! (Winning!) 
The quotes in this section highlight some of the benefits of traveling solo.
23)   "When you're traveling with someone else, you share each discovery, but when you are alone, you have to carry each experience with you like a secret, something you have to write on your heart, because there's no other way to preserve it."   –Shauna Niequist 
24)   "I think one travels more usefully when they travel alone, because they reflect more."   –Thomas Jefferson
25)   "There are some places in life where you can only go alone. Embrace the beauty of your solo journey."   –Mandy Hale
26)   "Some journeys in life can only be traveled alone."   –Ken Poirot
27)   "The inner journey of travel is intensified by solitude."   –Paul Theroux
28)   "Sometimes the journey has to be traveled alone in order to appreciate the strengths that lie deep inside of you."   –Steven Aitchison
29)   "Traveling alone was like laundry for my thoughts."   –Mark Foster
Solo Traveling Quotes to Combat Loneliness While Traveling Alone
While traveling solo, there may be moments when you feel lonely. But don't fear the loneliness. Embrace it as an opportunity to learn how to enjoy your own company.
And, remember, even though you're traveling solo, you're not actually alone. There are locals and other travelers all around you. And every person you meet is another connection, a potential new friend, and an amazing anecdote waiting to happen.
The quotes in this section will help you combat feelings of loneliness while traveling solo and inspire you to channel those feelings into positive opportunities.
30)   "Traveling solo does not always mean you're alone. Most often, you meet marvelous people along the way and make connections that last a lifetime."   –Jacqueline Boone
31)   "If you make friends with yourself, you will never be alone."   –Maxwell Maltz
32)   "Loneliness adds beauty to life. It puts a special burn on sunsets and makes night air smell better."   –Henry Rollins
Solo Female Travel Quotes
As a woman who's traveled solo all over, I'm a big proponent of solo female travel. I believe every woman should travel solo at least once in her life—if not more!
And solo female travel isn't limited to just the single ladies. On my travels, I've met many solo female travelers who are in dating relationships, engaged, or married.
Also, solo female travel isn't just for women in their 20s. It's for all women! Women can, do, and should travel solo at all ages!
So the solo traveling quotes in this section are for the girls!
33)   "The woman who follows the crowd will usually go no further than the crowd. The woman who walks alone is likely to find herself in places no one has ever been before."   –Alan Ashley-Pitt
34)   "Never did the world make a queen of a girl who hides in houses and dreams without traveling."   –Roman Payne
35)   "When a woman becomes her own best friend, life is easier."   –Diane Von Furstenberg
And share it on Facebook and Twitter!
Sign up to receive updates on new blog posts, giveaways, and more!
Affiliate Disclaimer:  This article may contain affiliate links. If you click an affiliate link and make a purchase, I earn a small commission at no additional cost to you. Also, as an Amazon Associate, I earn from qualifying purchases. For full information, please see the disclaimer.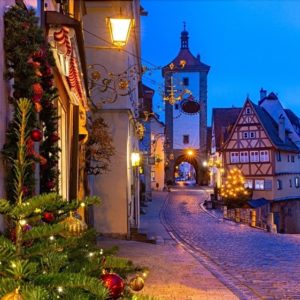 In this gift guide, discover the perfect German and Bavarian Christmas ornaments for your Christmas tree! These 42 Christmas ornaments will have you dreaming of Christmas markets, beer gardens, and lederhosen throughout the holiday season!
Read More »
Sign up to receive updates on new blog posts, giveaways, and more!