Driving in Aruba:
Everything You Need to Know
Driving in Aruba is the best way to explore the island. Because Aruba is only 20 miles long and 6 miles wide, it only takes about 45 minutes to drive the entire length of the island. 
Having your own wheels gives you the flexibility and freedom to explore at your own pace and to venture off the beaten path (if you're feeling adventurous). 
Plus, the good road conditions and American-style driving (on the right side of the road) make Aruba a low-stress place to drive, which is perfect because no one wants to be stressed out while on vacation!
Below are my tips for everything you need to know about driving in Aruba. Vacationers, start your engines…..
Basic Rules and Tips for Driving in Aruba
Here are a few essential things you should know before driving in Aruba:
Drive on the right side of the road, just like in the United States.
If you have a valid U.S. or international driver's license, you're allowed to drive in Aruba.
Do not turn right at red lights in Aruba. There aren't many traffic lights in Aruba, but if you happen to come upon one, don't turn right on red.
Drivers and passengers must wear seatbelts in Aruba. Seatbelt requirements are enforced.
Be aware that many of the roads in Oranjestad (the capital of Aruba) are one-way roads.
At intersections, vehicles coming from the right have the right of way.
If you want to pass another car, pass on the left-hand side.
Do not drink and drive in Aruba.
Do not use your cellphone while driving in Aruba.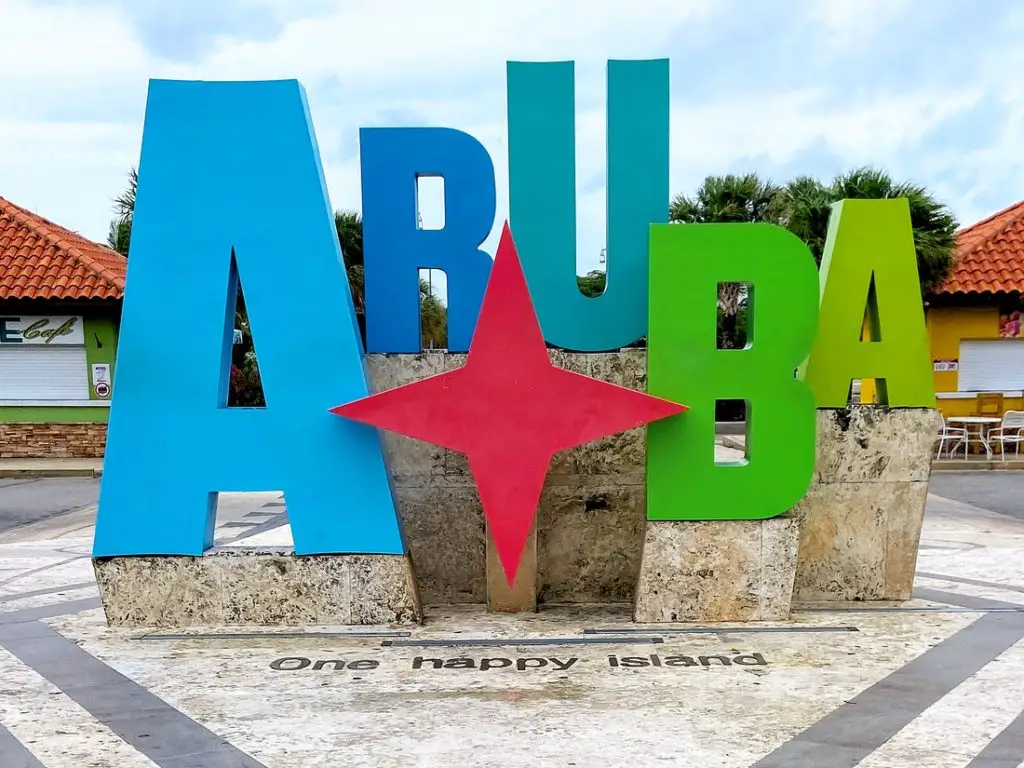 While driving in Aruba, watch out for goats and donkeys, which have a habit of wandering into the road. One of my favorite road signs in Aruba was a handmade "Beware of Goats" sign nailed to a stake on the side of the road near Arikok National Park. I saw goats and donkeys meandering down the road several times while driving around Aruba.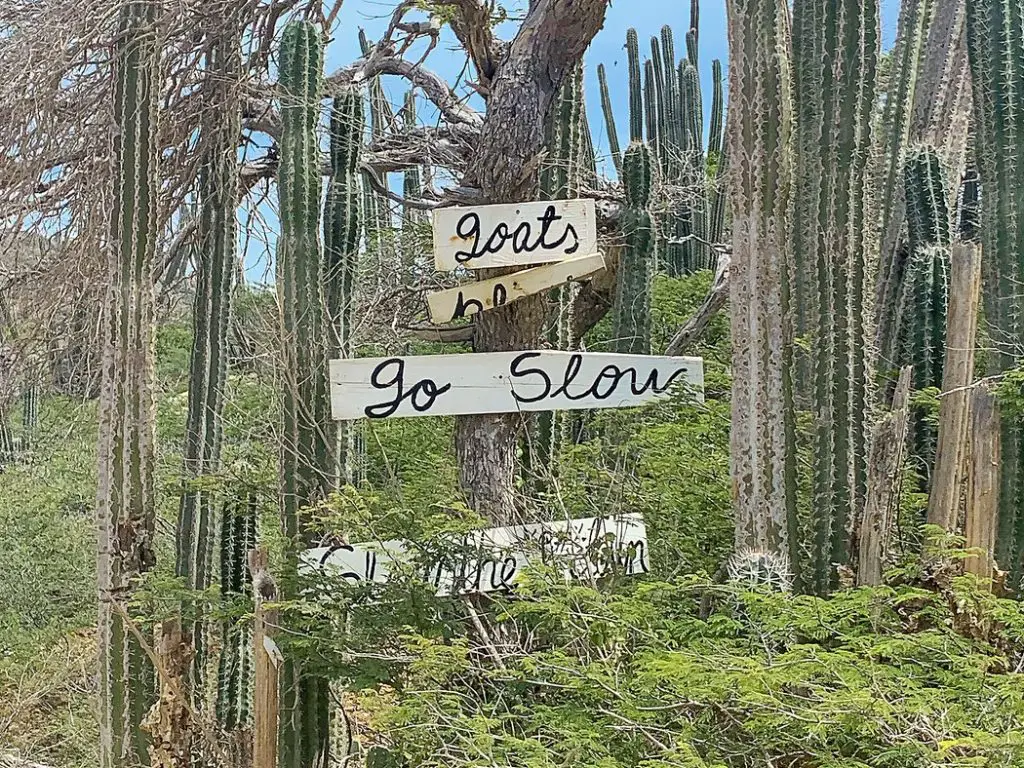 In Aruba, speed limits are in kilometers per hour. The speedometer in your rental car will also list your speed in kilometers per hour.
You will see the applicable speed limit posted on traffic signs in Aruba. In general, the speed limit in and around towns is 30 km/hour, whereas the speed limit outside of towns is usually 60 km/hour. However, on some faster roads outside of towns, the speed limit may be up to 80 km/hour. Also, speed limits may be lower in school zones and residential areas.
Speed limits are enforced in Aruba.
The traffic signs in Aruba are different from the traffic signs you see in the United States. So, before driving in Aruba, make sure to familiarize yourself with the different traffic signs and their meanings.  
One important distinction between traffic signs in Aruba and traffic signs in the U.S. is how the traffic signs indicate that a particular action is prohibited. In the U.S., a sign prohibiting an action typically has a red slash on it. However, in Aruba, a sign prohibiting an action has a red circle around it.
Also, remember that traffic signs in Aruba list the speed limit in kilometers per hour (not miles per hour).
To view images of common traffic signs, along with their meanings, check out this helpful list of Aruba Traffic Signs.
Aruba has a lot of roundabouts, but you will get used to them quickly. Here are a few basic rules and facts you need to know about roundabouts in Aruba.
First, vehicles that are already in the roundabout have the right of way. So when entering a roundabout, you have to yield to the vehicles that are already in the roundabout. Wait until there is an opening, and then proceed into the circle.
Second, there are raised lane dividers inside the roundabouts that make you stay in the correct lane. These lane dividers only rise a few inches off the ground, like a speed bump, but they discourage drivers from trying to change lanes within the roundabout.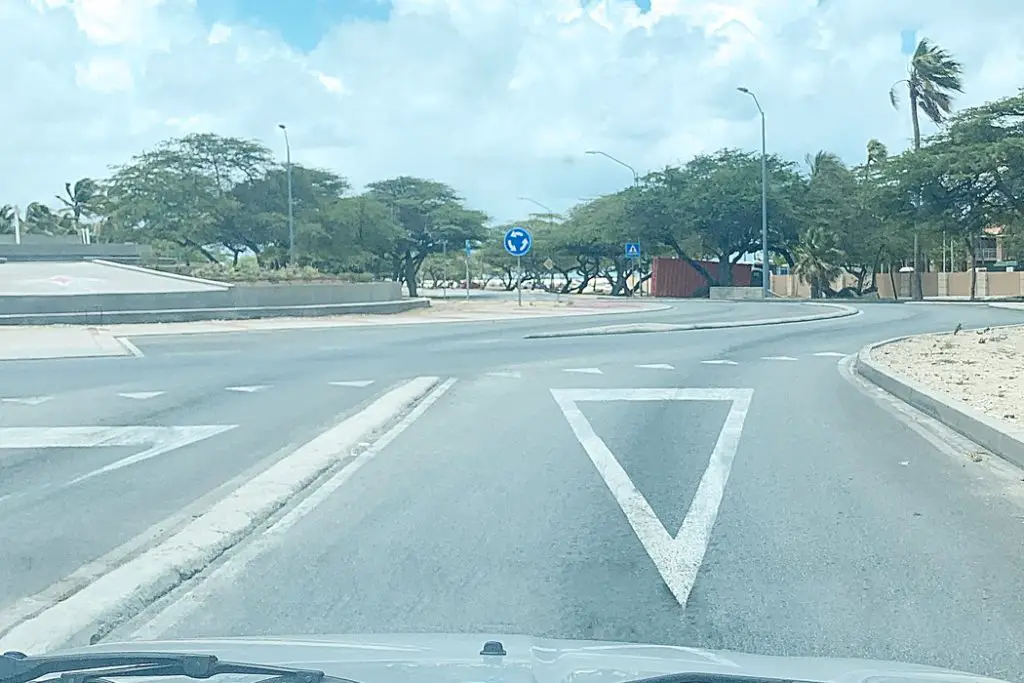 Third, as you approach a roundabout, you will see white images painted on the roadway in each lane. The image shows you where the roundabout exits are for your particular lane. These images are incredibly helpful tools for navigating the roundabouts, especially because the raised lane dividers mentioned above prevent you from changing lanes once you are in the roundabout. If you miss your exit or get in the wrong lane, don't worry. Just exit the roundabout when you can, turn around, and try again.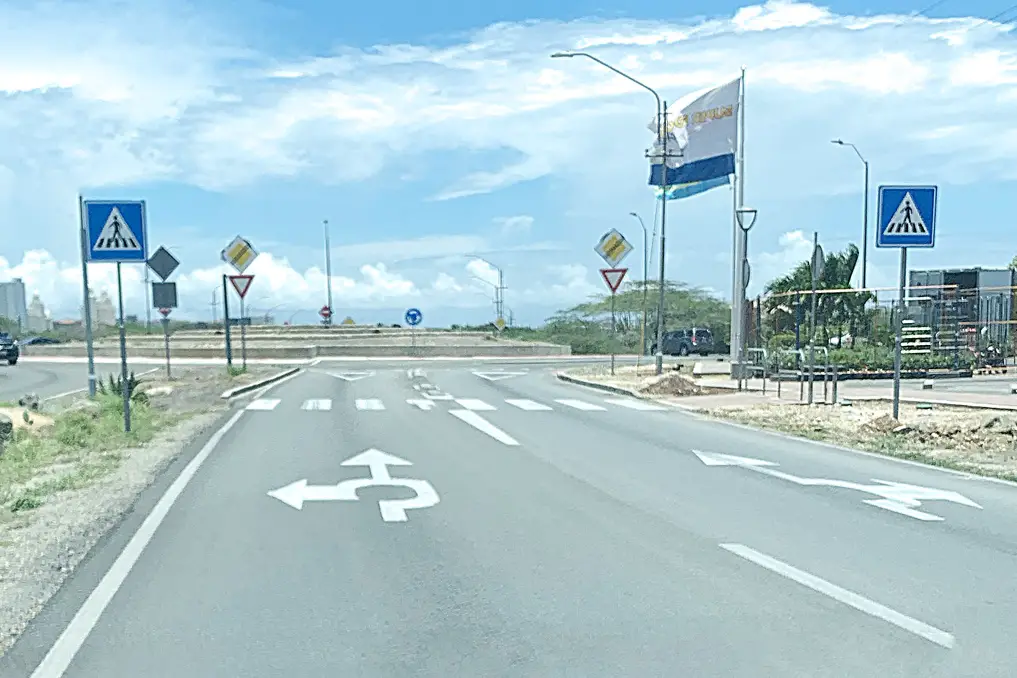 What to Do If You Get into a Traffic Accident While Driving in Aruba
Per the U.S. Department of State's website, if you get into a traffic accident in Aruba, do not move your car or pull over. Instead, immediately dial 100 to notify the police. You will also need to notify your rental car company and your insurance company right away. 
The main roads in Aruba are paved and in very good condition. This means you can easily get around most parts of Aruba in a car without four-wheel drive.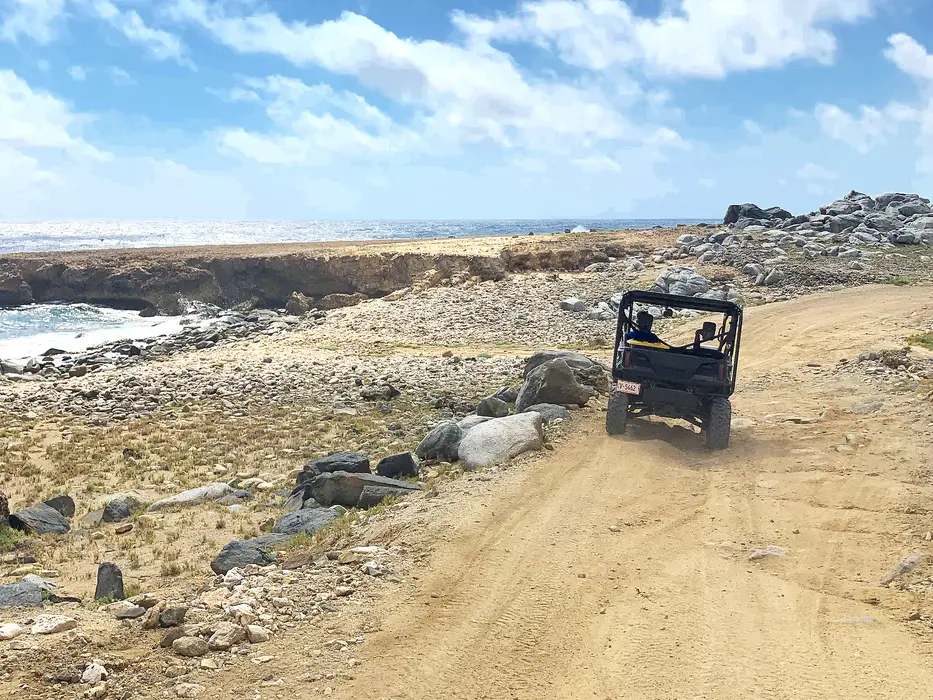 However, in more secluded, rugged areas of Aruba (for example, in Arikok National Park, around the northern tip of the island, and along the eastern coast), the roads are rougher and, in many cases, non-existent. These areas are perfect for an
off-roading adventure in an all-terrain vehicle or Jeep
with four-wheel drive. But 
do
not 
try to drive in these areas in a car.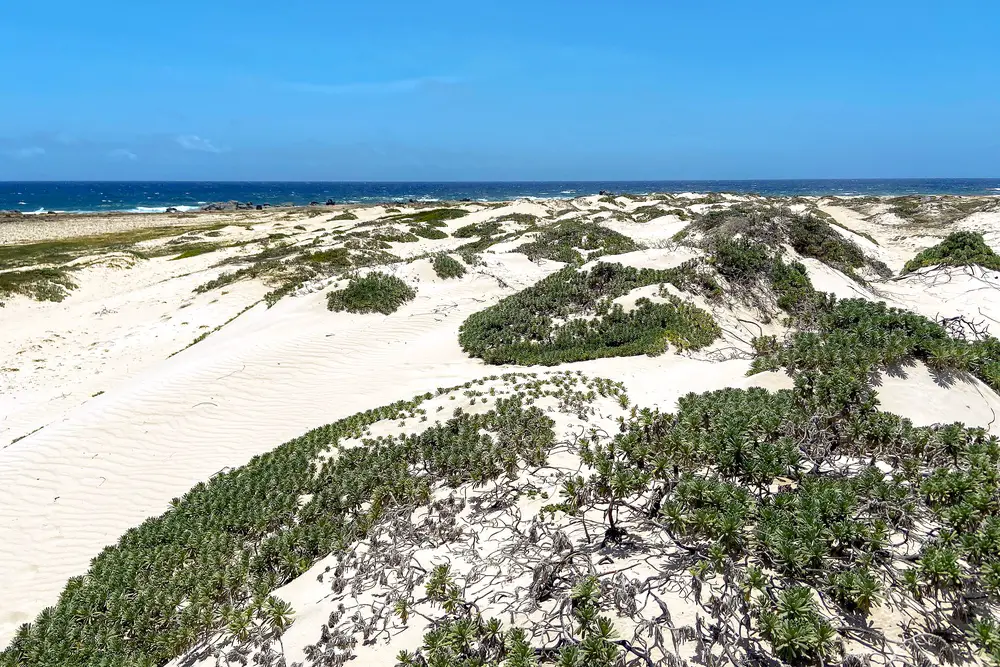 Twilley's Top Tips for Off-Roading in Aruba
I 100% recommend off-roading in Aruba. Whether you join a guided ATV/UTV tour or explore on your own, don't miss the opportunity to explore Arikok National Park (including "Conchi," the secret natural pool), the California Dunes on the northwestern tip of the island, and the rugged eastern coast of the island.
If you decide to go off-roading on your own, I recommend renting an all-terrain or 4×4 Jeep for one or two consecutive days and doing all your off-roading activities during that time. For the rest of your visit, just rent a standard car. Using this approach will save you money because renting an all-terrain vehicle or 4×4 Jeep is more expensive than getting a basic rental car.
Whether you should rent an all-terrain or 4×4 Jeep for two days or just one day depends on the length of your trip and what you want to do in Aruba.
Popular Off-Roading Tours in Aruba
No Parking Zones in Aruba
In Aruba, you are not allowed to park in the following places:
alongside a yellow line on the road,
on a bridge, or
on a road with a continuous middle line.
Parking in Oranjestad, Aruba
Finding parking in Oranjestad can be a challenge. Your parking options in downtown Oranjestad include metered and non-metered parking spots.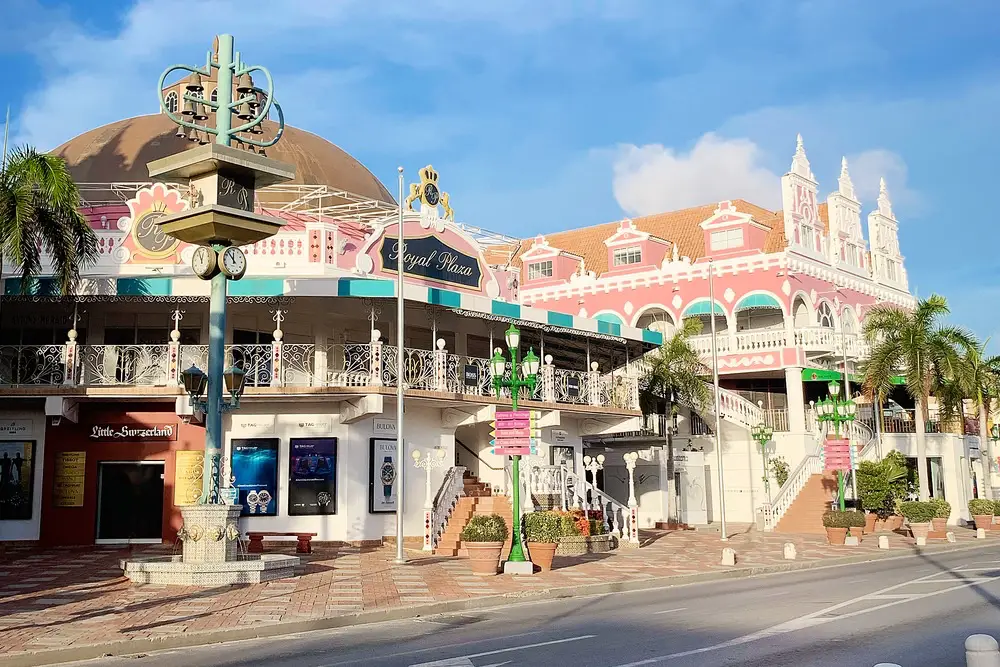 Paid Metered Parking in Downtown Oranjestad
Many of the parking spots in downtown Oranjestad are metered spots. Oranjestad has metered parking spots on the side of the road and in parking lots. 
Parking at the Renaissance Marketplace in Aruba
There is a metered parking lot in front of the Renaissance Marketplace along the waterfront in downtown Oranjestad. This lot is a very convenient place to park if you can find a spot. But just remember not to park in the yellow-line spots, which are reserved for permit-holders.
A company called Aruparking runs the parking meters in Aruba. Aruparking meters accept local coins, U.S. coins, the Aruparking prepaid SmartCard, and (sometimes) credit cards. You can also pay using a smartphone app called "iParkme." For more information about Aruparking meters (including rates, enforcement hours, and towing), visit the Aruparking FAQs webpage.
Free Parking in Downtown Oranjestad
It's free to park in the Aruparking metered spots in downtown Oranjestad outside of the enforcement hours. When this blog post was published in early 2021, parking meters were being enforced from 9:00 a.m. until 3:00 p.m. on Monday through Saturday, so you could park for free after 3:00 p.m. each day and anytime on Sundays. Visit the Aruparking website to see the current Aruparking meter enforcement hours.
In addition to the metered parking spots, there are also a limited number of free non-metered parking spots on the side of the road in downtown Oranjestad. 
Parking in the High-Rise and Low-Rise Hotel Areas in Aruba
In the high-rise hotel area (around Palm Beach) and the low-rise hotel area (stretching from Eagle Beach to Druif Beach), there are free parking lots and free parking spots on the streets.
There are also some paid parking lots in Palm Beach, including a parking garage near the mall. 
Parking at Beaches in Aruba
Parking is free at beaches in Aruba. 
Some beaches—like Arashi Beach and Eagle Beach—have paved parking lots. Others—like Boca Catalina Beach, Malmok Beach, and Tres Trapi ("Three Steps") Beach—simply have open areas beside the road where you can park. In the Palm Beach area, there are also public beach access roads (located between the hotels) that offer a limited number of parking spots.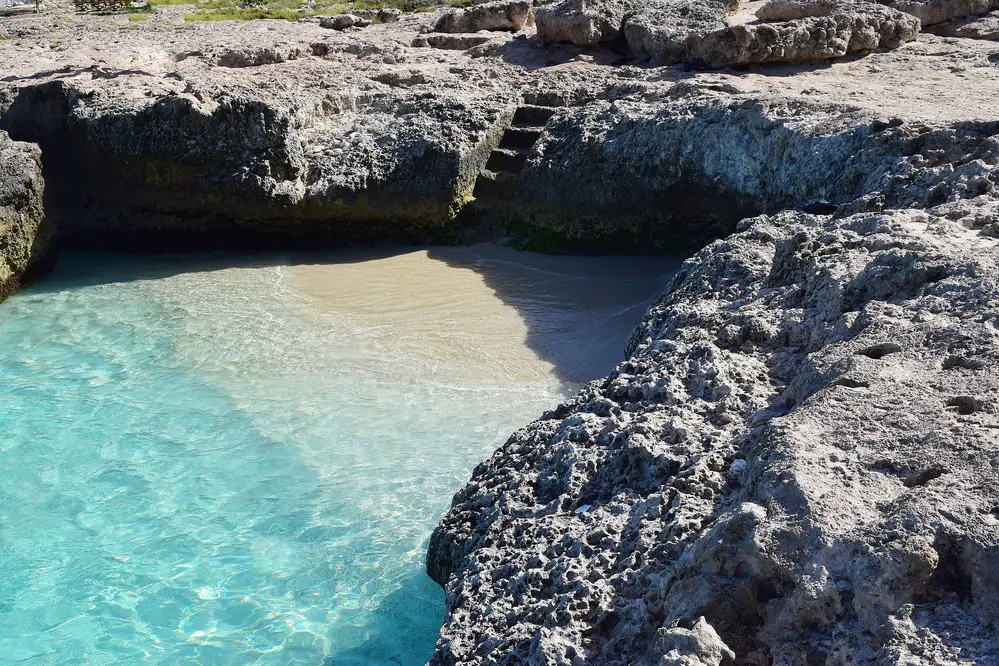 Where to Find Gas Stations in Aruba
Gas stations are easy to find in Oranjestad, San Nicolas, and the resort areas on the West Coast.
Full-Service and Self-Service Gas Stations in Aruba
Most gas stations in Aruba are not self-service. So instead of pumping the gas yourself, a gas station attendant pumps the gas for you.
However, some gas stations do offer self-service lanes. If you encounter a self-service gas pump in Aruba, you have to go inside the gas station to pay before you actually pump the gas. 
All gas stations in Aruba accept cash, and most accept major credit cards (like Visa or Mastercard).
As mentioned above, if you use a self-service gas pump in Aruba, you will need to go inside the gas station to pay before you pump the gas.
When I got gas at self-service pumps in Aruba, I would go inside the gas station to tell the cashier the number of my gas pump. I would then leave my credit card at the counter with the cashier while I went back outside to pump the gas. After pumping the gas, I would go back inside the gas station to retrieve my credit card after the cashier ran the charge.
Buying Gas in Liters in Aruba
In Aruba, gas is sold in liters, not gallons.  (Note: One liter is equivalent to about 1/4 of a gallon. Stated differently, there are 3.78 liters in one gallon.) 
The Aruban government regulates gas prices. As a result, gas prices in Aruba are the same at each gas station. So there's no need to shop around to find the lowest gas price!
Avoiding Vehicle-Related Theft in Aruba
In Aruba, most crime against tourists involves theft. The most common targets are unattended items left in plain view in public areas (like cars, beaches, etc.). So, always lock your rental car, and don't leave valuables in plain sight. Be particularly cautious in the town of San Nicolas, where car break-ins are more common.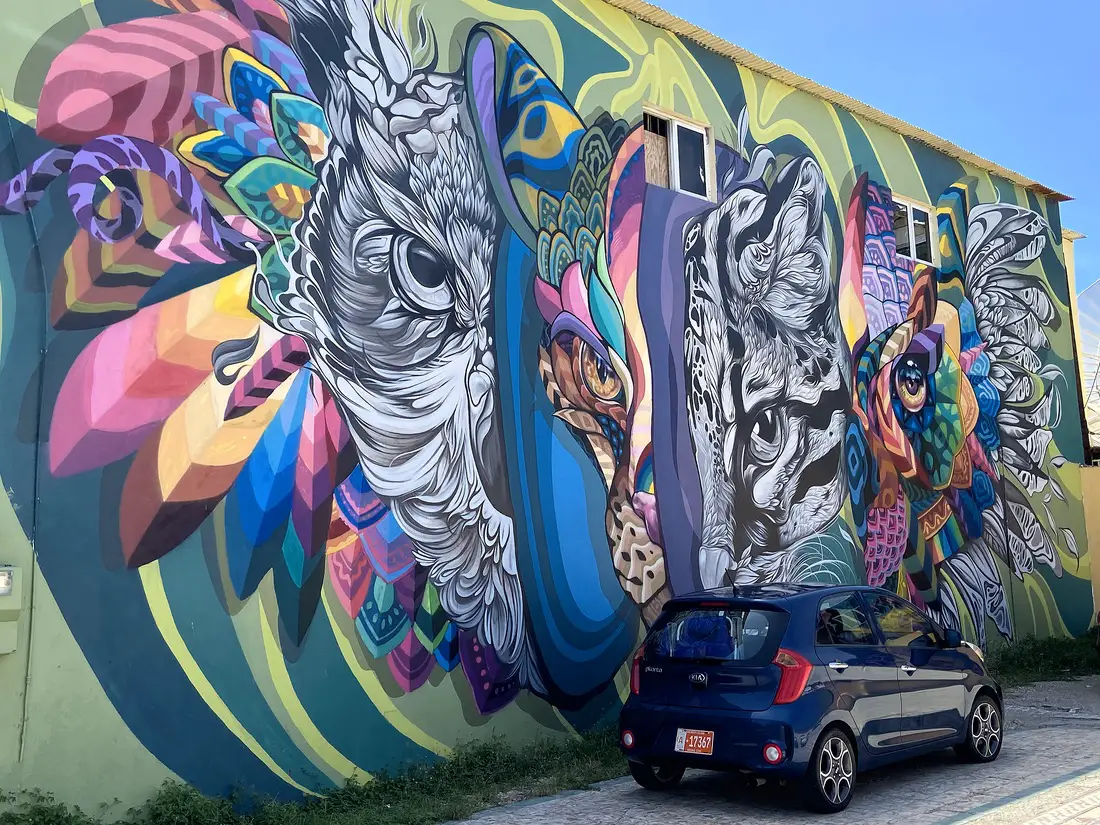 Use GPS and Download a Map to Use Offline
Before arriving in Aruba, go ahead and download a map of the island on Google Maps or the Maps.me app. This is one of my most important tips for getting around in Aruba! 
Having a map downloaded on your phone will come in handy if you lose cell service—which is likely to happen at some point—while driving around and using GPS. It's also a helpful way to avoid using data on your phone if you're trying not to pay international data rates. 
A Last-Resort Navigational Tip: Follow the Divi Divi Trees
If you get lost in Aruba and don't have a map or GPS, look for a Divi Divi tree. The windswept Divi Divi trees always bend/point toward the West (which, incidentally, is where the hotels are located). So, just drive in the direction the windswept Divi Divi trees are pointing, and you will eventually find the hotel areas along the coast.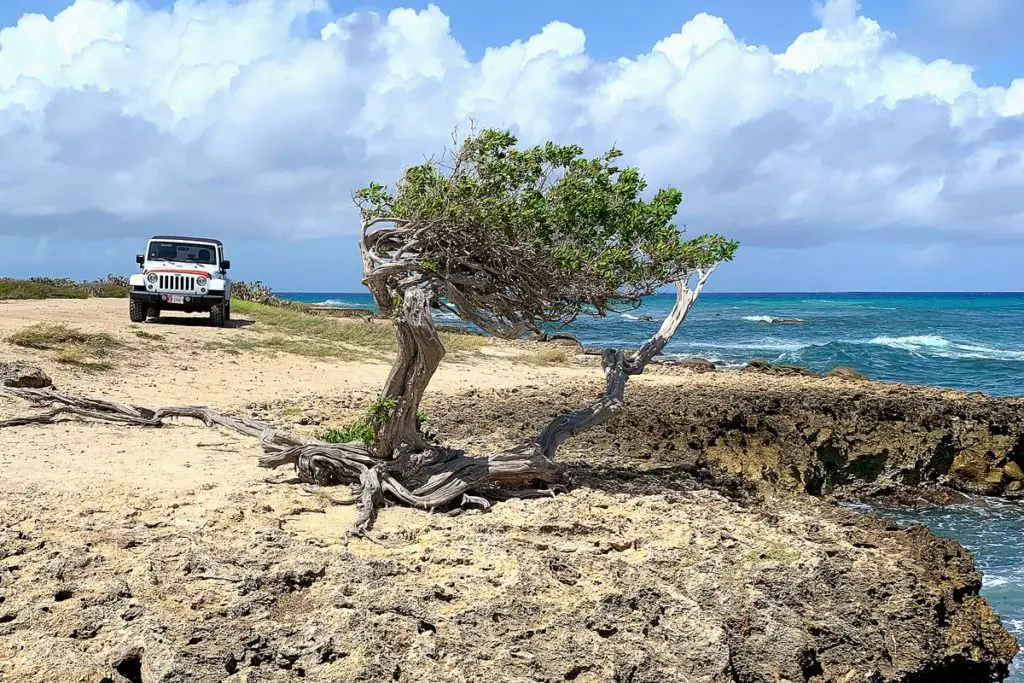 Renting a Vehicle in Aruba
Where to Rent a Vehicle in Aruba
There are several rental car company offices conveniently located at the airport, right in front of the Arrivals terminal. Other rental car companies have offices located offsite. Some rental car companies also have branches at resorts around the island. To find out which rental car companies operate in Aruba and whether they have offices at the Arrivals terminal or offsite, visit the Car Rental page on the Queen Beatrix International Airport's website. To get the best price on car and SUV rentals in Aruba, I recommend visiting a price comparison website like Kayak, Orbitz, or Booking.com.
If you're interested in renting a 4×4 Jeep to go off-roading in Aruba, I recommend a company called Top Drive (which is the rental company I used).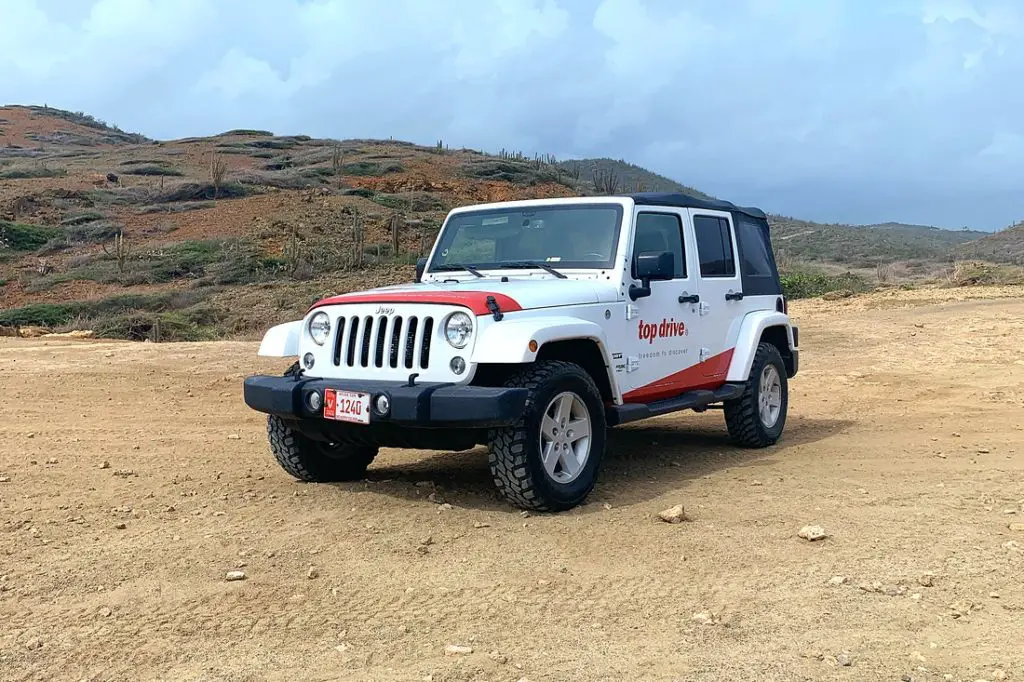 How Much Does Renting a Vehicle in Aruba Cost?
The cost of renting a vehicle in Aruba varies depending on the rental company you use and the type of vehicle you rent (for example, whether you rent a standard car or opt for an SUV with four-wheel drive).
When I visited Aruba, I rented an economy-class sedan from Enterprise. My rental car cost $22 per day plus fees and taxes. I had this economy rental car for all but two days of my trip. For those other two days, I rented a Jeep from Top Drive to go off-roading. The Jeep I rented from Top Drive cost $107 per day plus fees and taxes.
Twilley's Takeaways
In my opinion, driving is the best way to explore Aruba. Driving on the main roads in Aruba feels just like driving at home in the United States, albeit with a few more roundabouts. Once you get the hang of the roundabouts and familiarize yourself with the  traffic signs, driving in Aruba is a breeze.  
Aruba is also a fantastic place for an off-roading adventure. Whether you sign up for a guided off-roading tour or rent a 4×4 vehicle and take off on your own, you're in for a wild and exciting ride!
Other Awesome Tours and Experiences in Aruba
Sign up to receive updates on new blog posts, giveaways, and more!
Affiliate Disclaimer:  This article may contain affiliate links. If you click an affiliate link and make a purchase, I earn a small commission at no additional cost to you. Also, as an Amazon Associate, I earn from qualifying purchases. For full information, please see the disclaimer.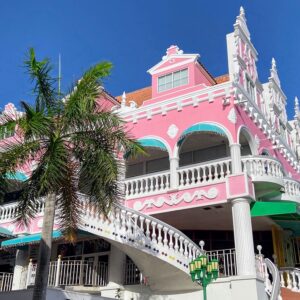 Nicknamed "One Happy Island," Aruba is a tropical paradise with turquoise-colored waters, pastel Dutch-style buildings, and a fantastic food scene. Plan your own Aruban getaway with my Ultimate Aruba Travel Guide!
Read More »
Sign up to receive updates on new blog posts, giveaways, and more!