The Best Local Food in Aruba:
15 Authentic Aruban Foods and 5 Local Drinks to Try in Aruba
Aruban food is a unique, flavorful blend of Dutch and Caribbean influences. You can find any type of food in Aruba, but the highlight of eating in Aruba is trying the authentic, local Aruban cuisine. Make sure to bring your appetite because the local food in Aruba is absolutely incredible!
In this guide to eating like a local, discover 15 authentic Aruban foods and 5 local drinks to try in Aruba. 
Follow these tips on what to eat and drink in Aruba, and I guarantee you will feel like a local and make some wonderful food memories!
15 Authentic Local Foods to Try in Aruba
Do you love dishes with savory meat, spices, and melted cheese? Well then, you're going to be head over heels for Aruba's national dish:  keshi yena. 
Keshi yena is an irresistible, authentic Aruban dish traditionally consisting of a hollowed-out Gouda cheese rind stuffed with savory meat, vegetables, spices, and sauces. In fact, the name keshi yena literally means "stuffed cheese" in Papiamento (a creole language spoken in Aruba that incorporates Dutch, French, Spanish, Portuguese, and English words).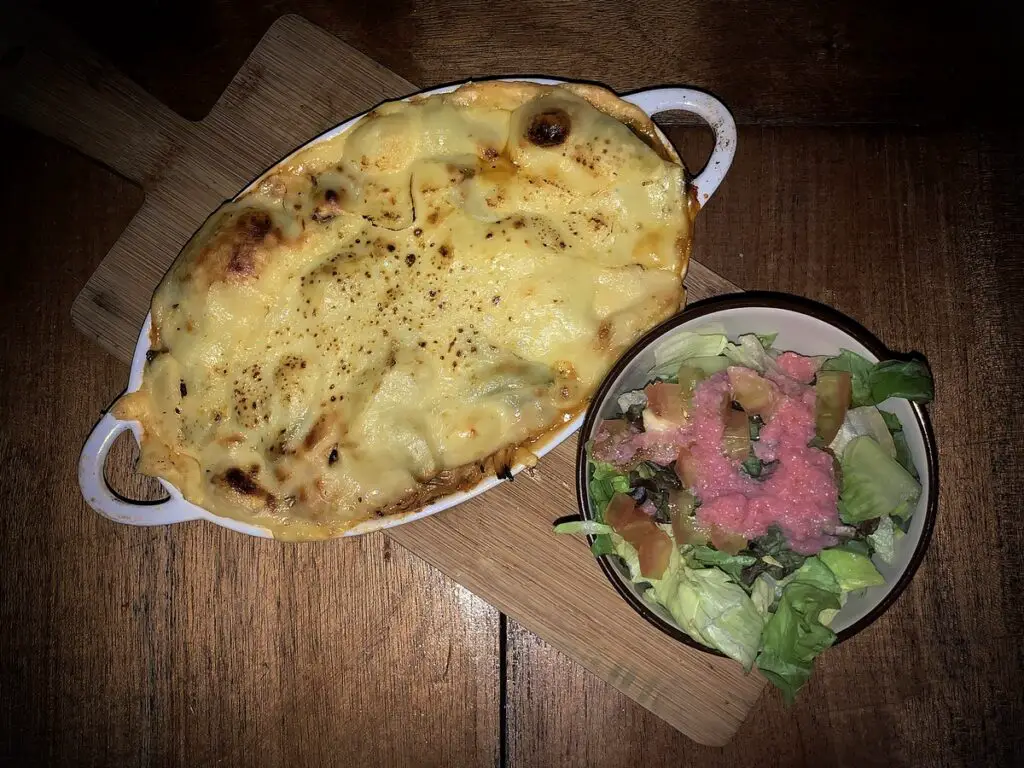 Traditionally, keshi yena is served with rice or cornbread. With all its cheesy goodness, keshi yena is as delicious as it is filling.
Many restaurants in Aruba serve this quintessential Aruban dish. When I visited Aruba, I ate keshi yena at Bistro de Suikertuin—a quaint (and very reasonably priced) restaurant in Oranjestad—and it was phenomenal!
Pastechis are fried, empanada-like pastries stuffed with a variety of fillings. Traditional fillings include spiced meat, seafood, and cheese. If you want to start your day like a local with a traditional Aruban breakfast food, eat a warm, flaky pastechi. Or, if you're looking for some authentic Aruban fast food, a pastechi is the perfect hand-held snack to eat on the go.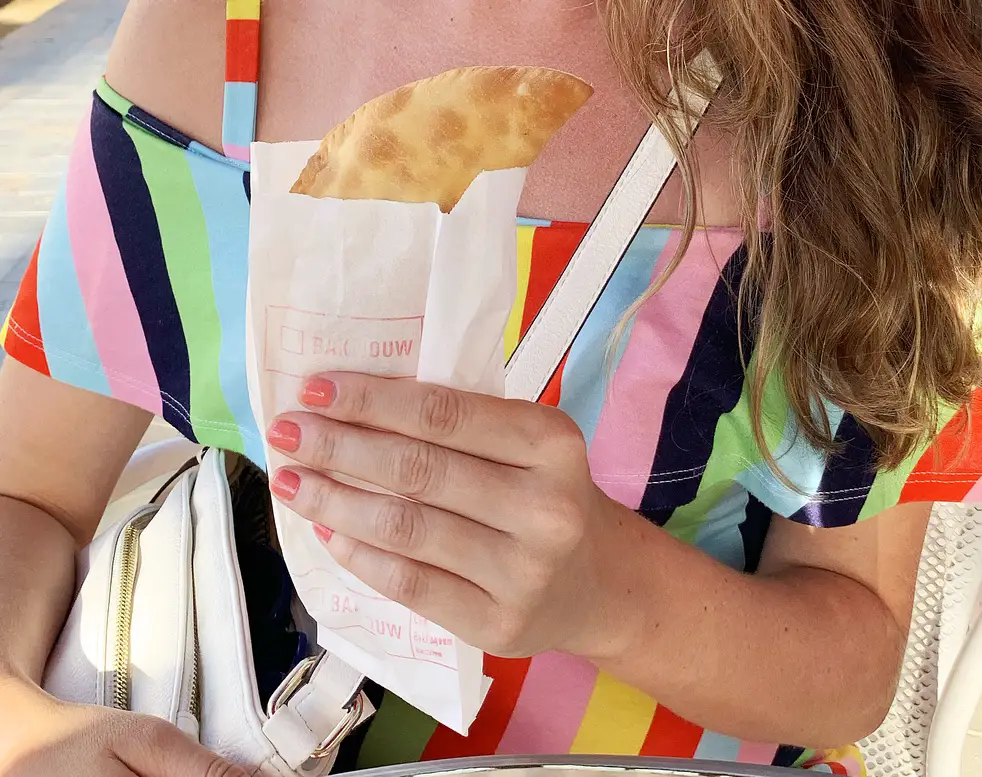 The Pastechi House, located on Caya G. F. Betico Croes (aka "Main Street") in downtown Oranjestad, is the most famous place to eat a pastechi in Aruba. As you stroll or ride the trolley down Main Street, make a pit stop at this white-trimmed, Dutch-style brick building to enjoy an authentic Aruban pastechi. It's a cute, inexpensive place to snack like a local. But, remember, The Pastechi House accepts cash only (no credit cards). So you will need to have some U.S. dollars or Aruban florins on hand to pay.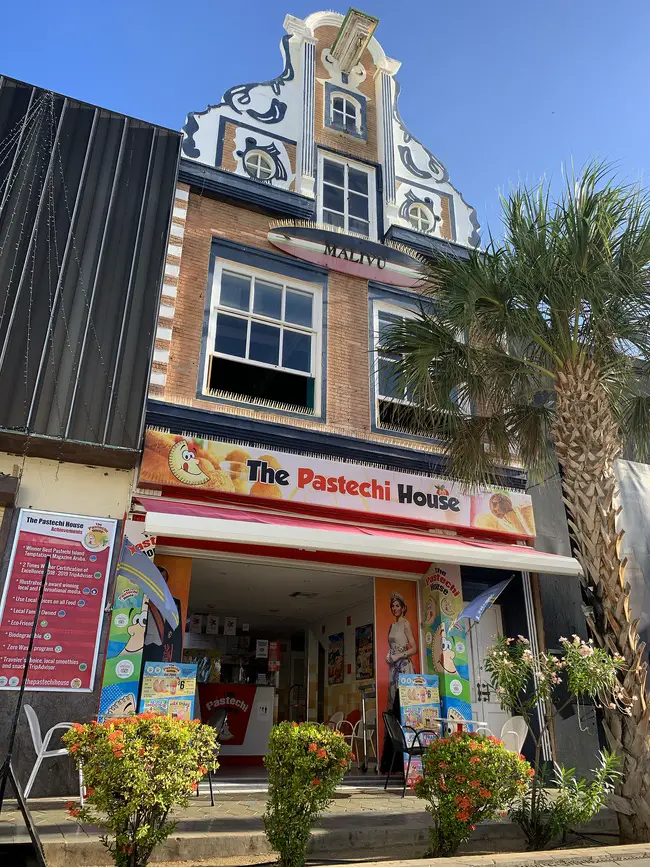 Pan dushi is a traditional Aruban sweet bread. In the Papiamento language, the word pan means "bread," and the word dushi means "sweet." So, pan dushi literally translates to "sweet bread."
The dough—which contains raisins, vanilla, and almond flavoring—is shaped into small rolls. The rolls are baked until they turn a golden brown color. Then, a mixture of brown sugar and water is brushed onto the rolls as the finishing touch.
Typically, Arubans eat pan dushi with breakfast in the morning or with their afternoon tea or coffee. These tasty, traditional Aruban sweet rolls are a must-try when visiting Aruba!
Another traditional Aruban food is pan bati. Pan bati (also called cornbread) is a flat, slightly sweet, fried bread made from cornmeal and flour. 
However, just to clarify, this Aruban-style cornbread is not like the crumbly, baked-in-a-skillet type of cornbread we have in the Southeastern United States, where I live. Instead, the consistency and flavor of pan bati is similar to that of American-style pancakes. In fact, pan bati batter is actually cooked in a pan like an American-style pancake. Essentially, pan bati is a spongey, cornbread-like pancake.
Locals in Aruba typically eat pan bati as a side dish with meat, fish, stew, or soup. You can find pan bati at many local restaurants in Aruba. During my stay in Aruba, I enjoyed eating pan bati with the shrimp and fish at Zeerover—a must-try local seafood restaurant in the town of Savaneta.
Another authentic Aruban food beloved by locals is funchi—a cornmeal mush similar to polenta. 
Funchi is a staple of traditional Aruban cuisine. In fact, funchi is served as a side dish at all times of day—at breakfast, lunch, and dinner. Although funchi can pair with any Aruban dish, locals often eat funchi with stobas (stews) and sopis (soups) in particular.
Stoba (or stew) is another favorite local food in Aruba. Traditional Aruban stobas can be made with a variety of stewed meats, including chicken (Galiña Stoba), beef (Carni Stoba), or goat (Cabrito Stoba). In Aruba, stobas are often served with rice, funchi, or pan bati.
If you're looking for a great local restaurant in Aruba to try a delicious, authentic stoba, I recommend Gostoso Restaurant. I ate Galiña Stoba (with stewed chicken and rice) at Gostoso, and it was fantastic!
Because Aruba is an island, fresh local seafood is an essential part of traditional Aruban cuisine. If you want to eat like a local in Aruba, you simply must try pisca hasa. Pisca hasa is fried fish seasoned with a unique blend of Creole spices. It's a simple dish, but the flavor is complex and unforgettable!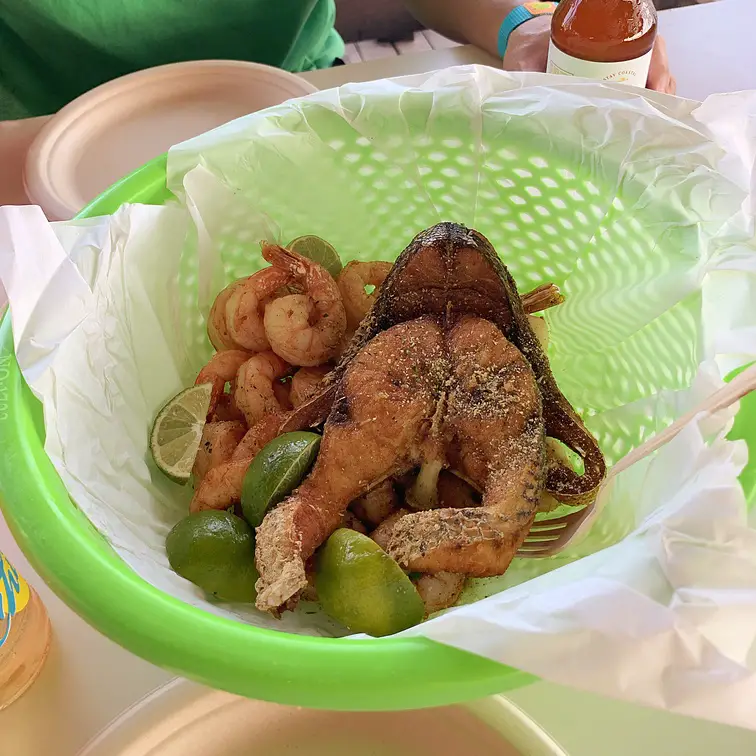 You can find pisca hasa at many local restaurants in Aruba. But, hands down, the best place in Aruba to try authentic pisca hasa is at Zeerover in Savaneta.
Do you know what goes great with pisca hasa? Fried plantains!
Typically served as a side dish, fried plantains are another popular local food in Aruba.  Fried plantains are a delicious addition to any authentic Aruban meal.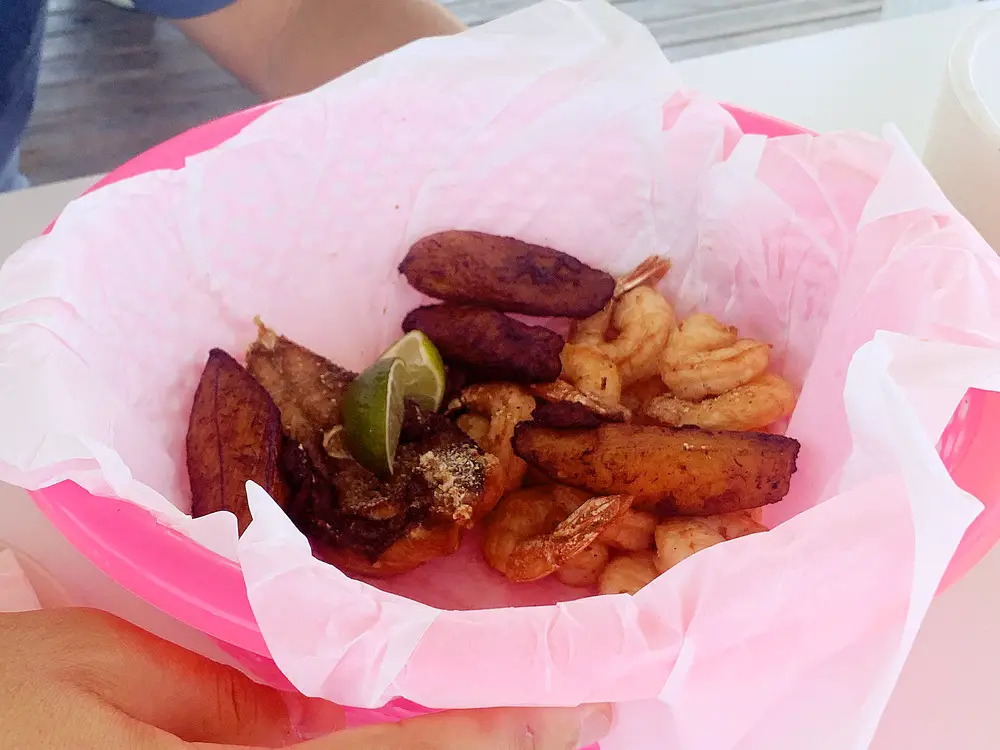 The sweetness of the crispy, caramelized fried plantains pares especially well with salty, Creole-seasoned fried seafood. It's seriously a match made in heaven!
If you want to try some incredible fried plantains in Aruba, I recommend going to Zeerover in Savaneta and Cuba's Cookin' in Oranjestad. Both restaurants have phenomenal fried plantains!
Arubans love spicy food. Therefore, it's no surprise that a bowl or jar of pika (a spicy relish made with local, habanero-level-hot Scotch bonnet peppers, onions, and vinegar) is a staple on any Aruban table. Fittingly, the word pika actually means "pepper" in the Papiamento language. 
If you dare, add some pika to your food to "kick it up a notch" (as Emeril Lagasse would say)!
But remember…  Although water can put out most flames, if your mouth feels like it's on fire from eating pika, water won't help. Instead, extinguish your flaming taste buds by consuming some dairy, rice, or bread.
Another beloved (and ubiquitous) condiment in Aruba is papaya hot sauce. As the name suggests, this delicious hot sauce is made with local hot peppers and papayas. 
One of Aruba's most popular brands of papaya hot sauce is Hot Delight Gourmet Hot Sauce. Catering to different hot sauce preferences, Hot Delight sells a spicier hot sauce called "Madam" and a milder, distinctively orange-colored hot sauce called "Papaya" (which is my favorite).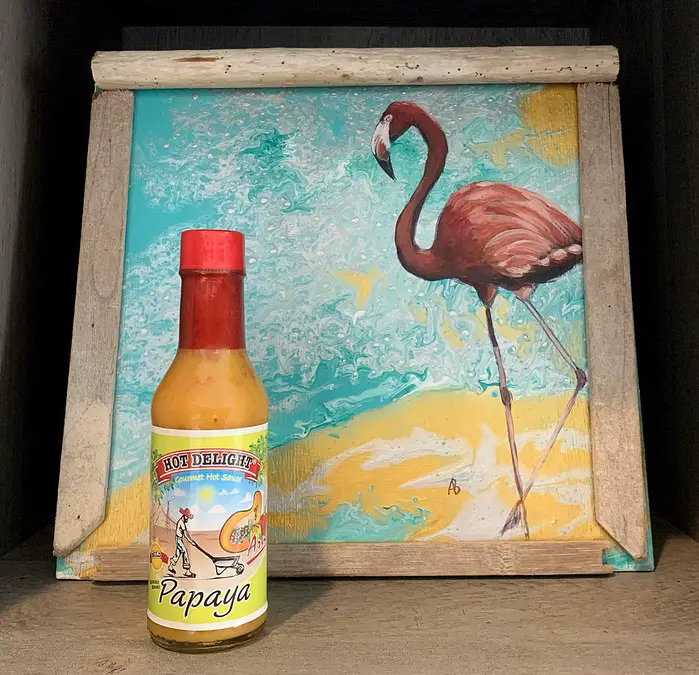 Hot Delight Papaya Hot Sauce adds a spicy kick to any meal.  But, don't worry, in small amounts, it's not spicy enough to set your mouth on fire. (I don't have a high tolerance for super spicy foods, but I loved adding a dash of Hot Delight Papaya Hot Sauce to my food in Aruba. It's especially delicious on the shrimp and fish at Zeerover!)  
A bottle of Hot Delight Gourmet Hot Sauce also makes a fantastic souvenir! Plus, once you get home and, inevitably, use up all of your new favorite hot sauce, you can buy more online on the Hot Delight website.
11. Quesillo (or "Kesio")
In addition to loving spicy food, Arubans also love sweets. One of the most popular Aruban desserts is quesillo (also spelled "kesio"), an egg custard topped with caramel sauce. Essentially, quesillo is the Aruban version of the dessert known as "flan" or "crème caramel" in other parts of the world.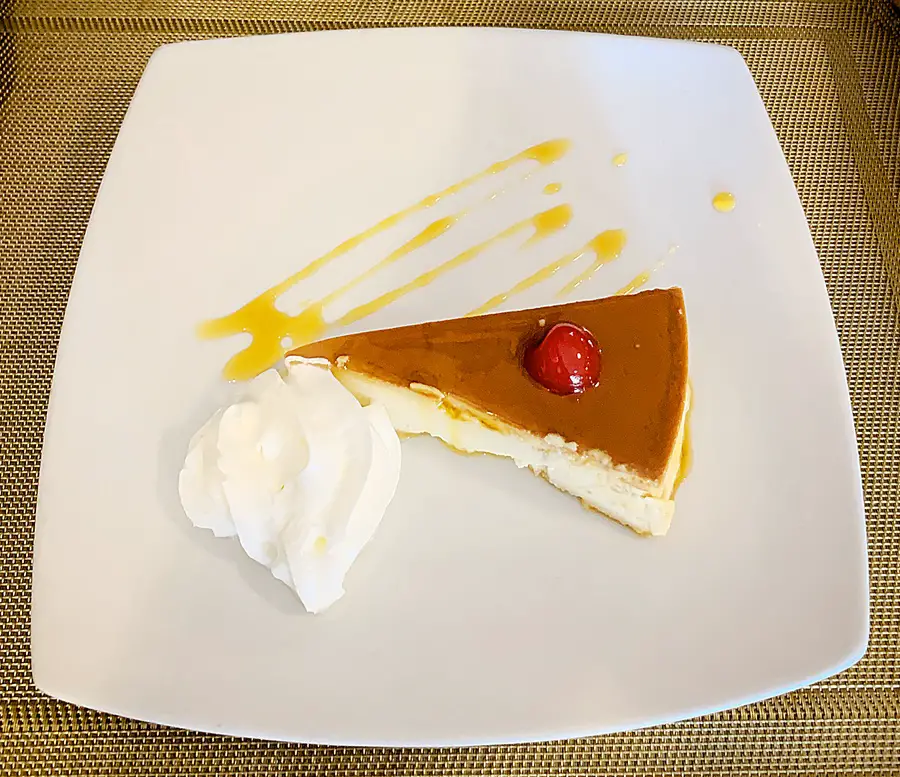 You'll find quesillo on many menus in Aruba. During my trip to Aruba, I tried this yummy dessert at Gostoso (a fantastic restaurant in Oranjestad serving Aruban, Portuguese, and other international dishes).
Another sweet local Aruban treat is cocada. Cocada is a bite-sized coconut candy made with brown sugar, grated coconut, and lime juice. You'll go coco-nuts for this yummy treat, which is traditionally served on a piece of coconut shell.
Stroopwafels are another delicious, must-try local food in Aruba. In Dutch, the word stroopwafel literally means "syrup waffle." A stroopwafel is a wafer cookie, which, traditionally, consists of a layer of caramel sandwiched between two thin, toasted wafers. However, in Aruba, you can buy stroopwafels made with either caramel or honey.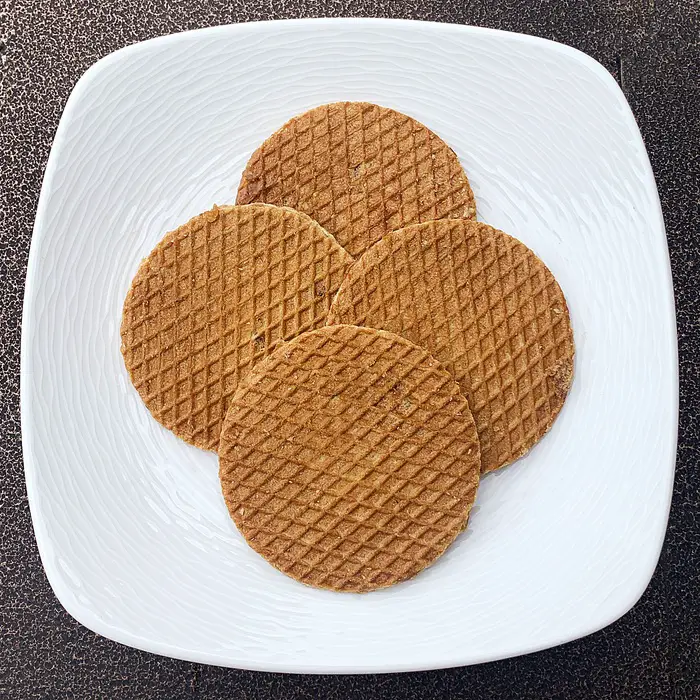 Although stroopwafels were actually invented in the Netherlands, they're popular in Aruba because of Aruba's Dutch heritage.
In addition to being a dushi (sweet) little snack, stroopwafels also make fantastic souvenirs. Before leaving Aruba, I bought about a dozen packs of stroopwafels at the Super Food grocery store to take home as gifts (or "sercies," as we say in the South) for friends and family members. And, let me tell you, the stroopwafels were a big hit!
Another traditional, Dutch-inspired local food in Aruba is the Dutch pancake. Dutch pancakes are similar to French crépes in terms of thickness and taste. However, unlike crêpes (which are folded), Dutch pancakes are typically served round and flat (like an American-style pancake or a pizza). Because Dutch pancakes can be sweet or savory, they're perfect for breakfast and brunch. Try them at Diana's Pancakes Place in Palm Beach or The Dutch Pancakehouse in Oranjestad.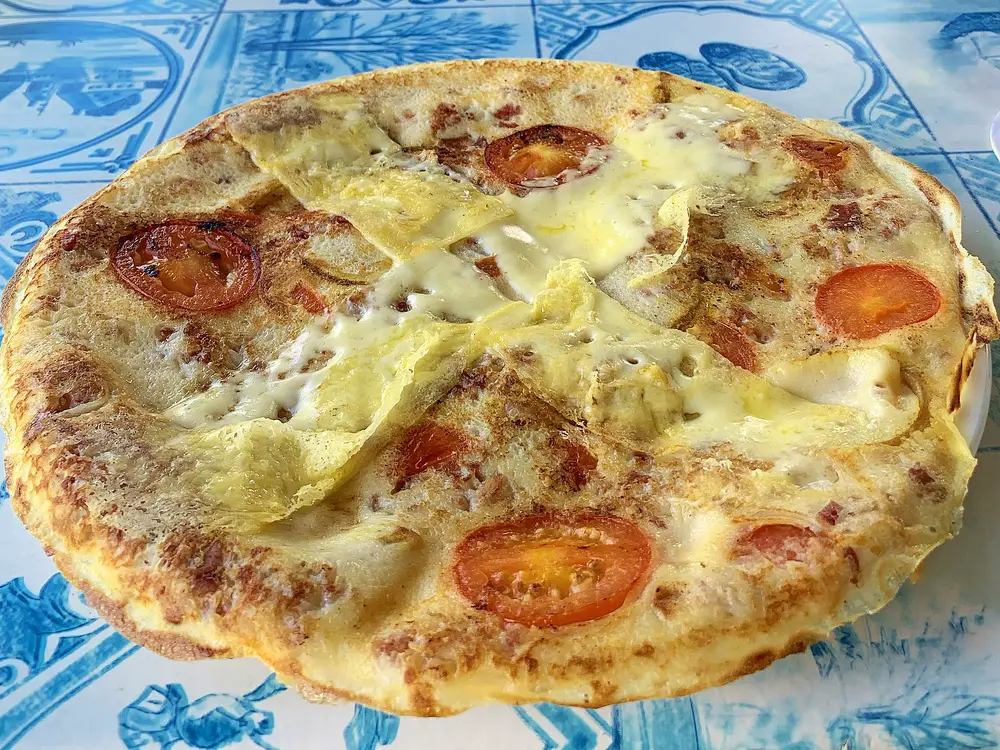 If you're craving a savory local Aruban snack food with Dutch roots, try bitterballen (also known as Dutch meatballs). Bitterballen are deep-fried, breaded meatballs. They're typically served with mustard and speared with toothpicks for convenient snacking. Pair them with a local Aruban beer for the perfect local-approved snack!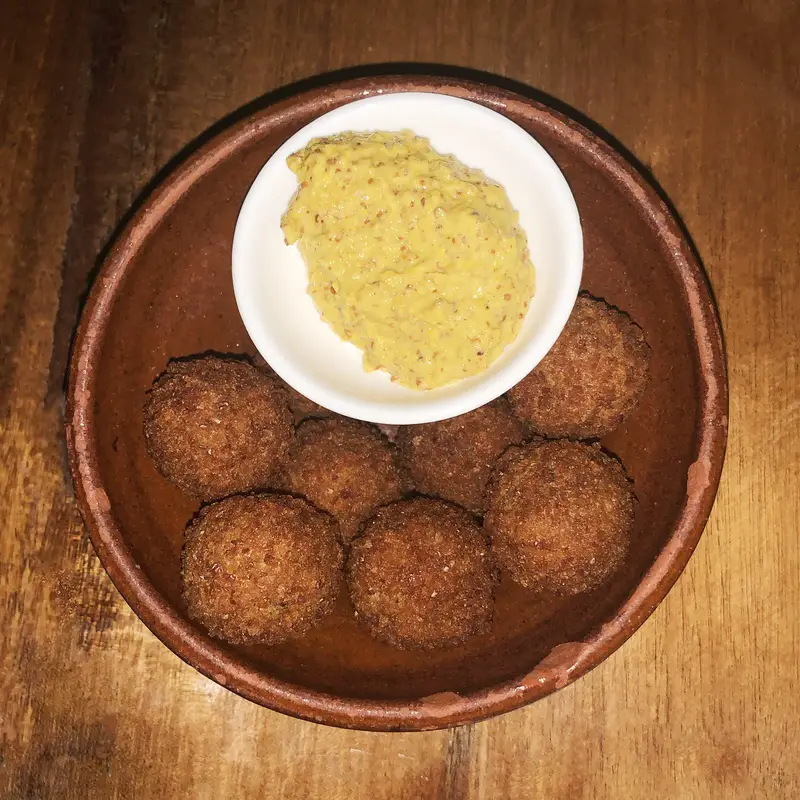 You can find bitterballen at many restaurants in Aruba, including at Bistro de Suikertuin in Oranjestad (where I ate them during my trip).
5 Local Drinks to Try in Aruba
If you're also interested in drinking like a local while enjoying some traditional Aruban food or relaxing on the beach, here are five fantastic local Aruban beverages to try.
1. Balashi Beer – Aruba's Local Beer
Balashi is Aruba's national beer. Aruba's beloved Balashi beer is brewed locally using Aruba's delicious, high-quality desalinated seawater. The Balashi Brewery is located just outside of Oranjestad in Balashi, the area with which the beer shares its name. 
The brews include Balashi (a pilsner), Balashi Chill (a refreshing pale lager usually served with a wedge of lime), and other limited release beers.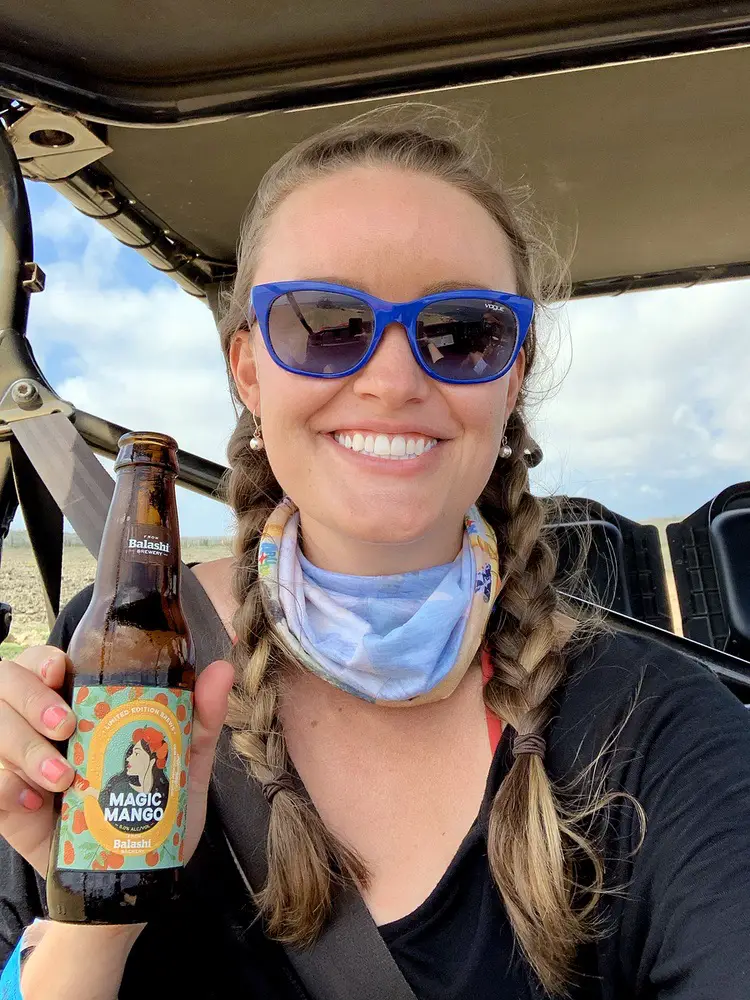 If you're interested in seeing how the beer is made, the Balashi Brewery offers a brewery/factory tour.  The brewery also has an outdoor beer garden where you can order lunch and drinks. 
For more information about the Balashi Brewery Tour (including hours and admission costs), and to book a tour, visit the Balashi Brewery website. (Note: When this post was published in 2021, the Balashi Brewery Tour and Balashi Beer Garden were temporarily closed due to the COVID-19 pandemic. Visit the Balashi Brewery website for updates regarding reopening.)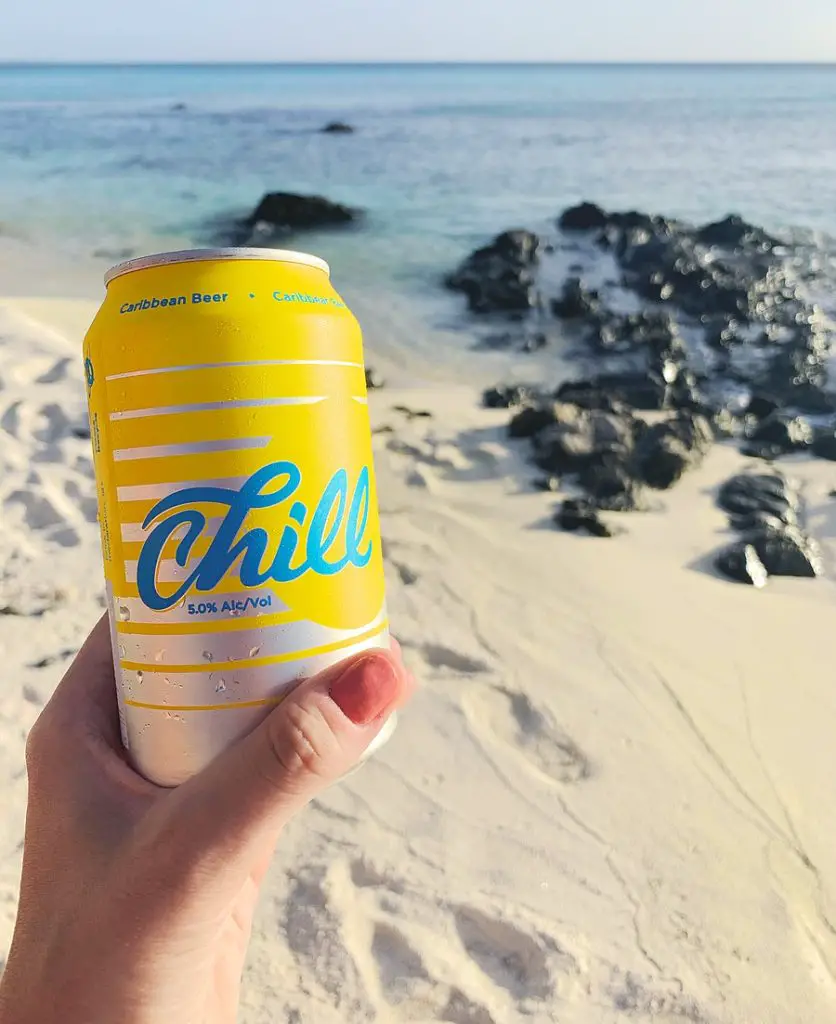 In addition, Balashi beer and Balashi-branded merchandise (especially items emblazoned with the yellow and blue Balashi Chill logo) make great souvenirs for beer-lovers. You can buy Balashi beer at gas stations and grocery stores. And you can find merchandise bearing the Balashi logo at basically any touristy shop in Aruba.
Another beverage you simply have to try in Aruba is the refreshing "Balashi Cocktail!" This drink is a must-try for the whole family—parents, grandparents, teenagers, and toddlers. Never mind that the legal drinking age in Aruba is 18! 
That's because "Balashi Cocktail" is the code name locals use for a glass of Aruba's delicious drinking water! (Had you worried for a second, didn't I?) "Balashi Cocktail" is the local nickname for a glass of water because, like the Balashi Brewery, the seawater desalination plants that produce Aruba's drinking water are located in the Balashi area of the island.
So if you're looking to quench your thirst with some 100%-local drinking water, order a "Balashi Cocktail" (or just tell your server you'd like a glass of water). But if you're looking for something stronger (and you're 18 or older), then tell your server that you want a "Balashi."
The Aruba Ariba is the island's most famous signature cocktail! One of the main ingredients in an Aruba Ariba is a locally-made, crimson-colored Aruban liquor called coecoei, which you can only buy in Aruba. Coecoei is made from rum, cane sugar, and the sap of local agave plants using a special recipe handed down from ancient Indian tribes.
In addition to the signature coecoei liquor, an Aruba Ariba also contains orange juice, cranberry juice, pineapple juice, Crème de Banana, vodka, rum, Grenadine, and Grand Marnier. Yum!
No trip to Aruba is complete without trying this distinctly Aruban cocktail!
4. The Boozer Colada at Charlie's Bar
If you're looking for a fun and one-of-a-kind bar experience in Aruba, visit Charlie's Bar & Restaurant, a legendary local watering hole in the heart of San Nicolas. Charlie's Bar is a local institution that has been family-owned and -operated since 1941.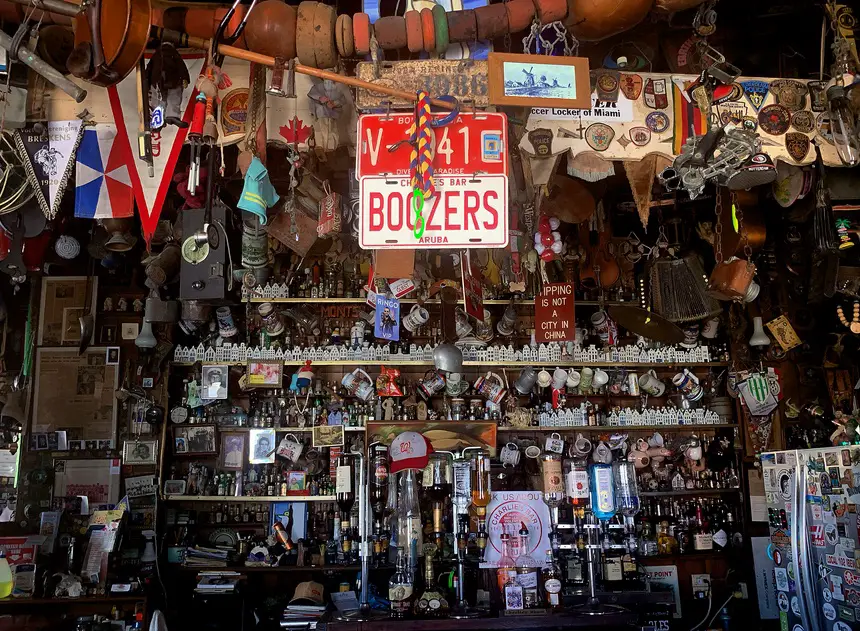 What makes Charlie's Bar so interesting are all the eclectic knickknacks, collected over many years, that hang from the ceiling and cover every inch of the walls inside the bar. While you check out all these interesting objects, sip Charlie's signature drink—the famous Boozer Colada—which is everything a fruity island cocktail should be! Drinking a Boozer Colada at Charlie's Bar is a local Aruban experience you definitely won't want to miss!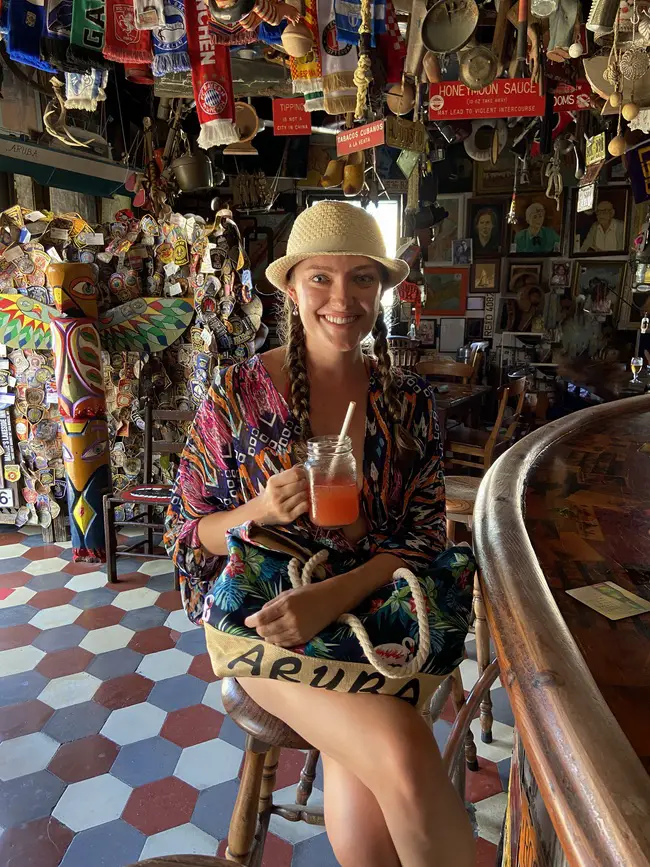 Another great local drink to try in Aruba is ponche crema, a strong, creamy, rum-based beverage that tastes like eggnog. Besides being a great holiday drink, ponche crema is also used as an ingredient in local cocktails like the Aruban Blast. You can also add ponche crema to your coffee to give it a creamy Aruban kick!
Where to Eat Local Food in Aruba
In addition to Aruba's many local restaurants, a great place to try authentic Aruban food is at one of Aruba's many local festivals. Popular local festivals include:  
the weekly Bon Bini Festival (held at Fort Zoutman in Oranjestad every Tuesday night), 

the monthly

Island Festival

 

(held in San Nicolas on the last Wednesday night of each month), and 

the monthly 

Meet San Nicolas

 street party (held on the first Thursday of each month).
Also, if you're visiting Aruba in October, you can experience "Eat Local Aruba" Restaurant Week and try authentic Aruban cuisine at participating restaurants.
COVID-19 Note:  Due to the ongoing COVID-19 pandemic, some local events are not currently taking place and have been postponed. But make sure to keep them on your post-pandemic Aruba bucket list!
Sign up to receive updates on new blog posts, giveaways, and more!
Affiliate Disclaimer:  This article may contain affiliate links. If you click an affiliate link and make a purchase, I earn a small commission at no additional cost to you. Also, as an Amazon Associate, I earn from qualifying purchases. For full information, please see the disclaimer.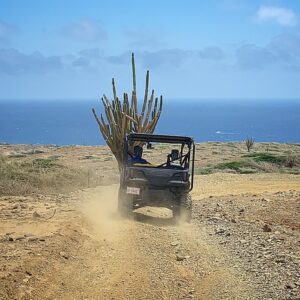 Driving in Aruba is the best way to explore the island. It's easy and convenient and gives you the freedom to explore the entire island at your own pace. This post has all the tips you need to know for driving in Aruba!
Read More »
Sign up to receive updates on new blog posts, giveaways, and more!